K9's in Training for Scottsdale Medical Center Officer Steven Palacios

with K9 Aran and Officer Allen Kuhn with K9 Mates.

SPECIAL THANK YOU TO ALL FOR PUTTING TOGETHER THE EVENTS!!!

OFFICER JIM SULLIVAN WITH BLAK AND OFFICER TIM MURPHY WITH CANTO,

AND HANS TAKING A BREAK AFTER A WORK OUT AND GRADUATION DAY.

OFFICER JIM SULLIVAN AND BLAK, AND OFFICER TIM MURPHY AND CANTO

ARE THE WORKING TEAMS AT SCOTTSDALE MEDICAL CENTER IN AZ NOW.

A SPECIAL THANK YOU TO RICK WHALEN AND OTHER STAFF MEMBERS FOR

MAKING ALL THE EVENTS POSSIBLE ON 11/29/00 AT SCOTTSDALE MEDICAL CENTER IN AZ.

THE WORKOUT WITH OFFICER TIM AND CANTO SHOWS PROTECTION AND

OBEDIENCE AND CANTO'S ABILITY TO BE FRIENDLY AFTERWARDS WITH KIDS.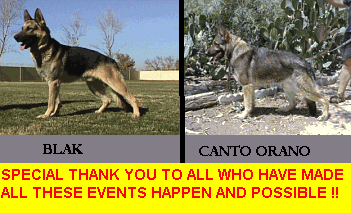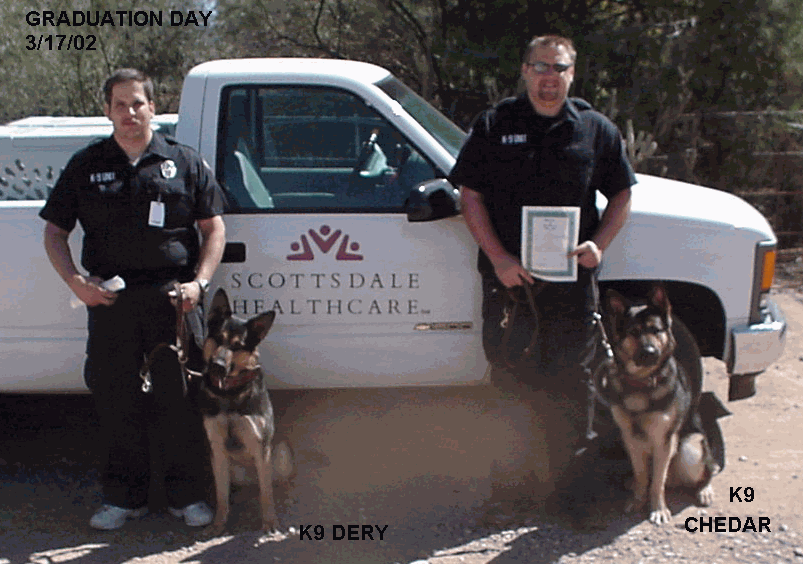 K-9 Blak-u, as many others was provided by AlpineK9.com. But Blak was special dog. He was originally Hans' personal dog. AlpineK9 started hospital program in Scottsdale Health Care Hospital and in other hospitals many years ago and still provides dogs to Hospitals and other law enforcement agencies. Hospital says goodbye to retiring security dog Kate NolanThe Arizona Republic Mar. 11, 2008 12:35 PM  Blaku is as equipped to nuzzle your face as rip off your arm, depending on which order his handler Jim Sullivan gives.  Last week, Sullivan let the 11-year old Germanshepherd follow his heart, which fortunately led to anorgy of dog-nuzzling at Scottsdale Healthcare Osborn,while Blaku made final patrols of the400,000-square-foot Scottsdale hospital. On Friday, the Czech-born shepherd retired from the hospital, after almost eight years on its security team.      As the two wandered through the emergency department one day last week, Sullivan, 41, said something in Czech that sounded like: "Sezs. Krzjechniklik," and Blaku calmly sat down. Every time he'd say it anywhere in the hospital, the dog would obey and, in turn, hospital staff would crumple to the floor, wipe away their tears and hug the 95-pound K-9 star.  On Tuesday, the emergency department threw him a farewell party.  Blake's departure is such a blow, the hospital is throwing another party tomorrow for the entire staff to honor Blaku.  Blaku was one of the hospital's first two security dogs; the other, Canto, retired three years ago. Almost eight years ago, Sullivan picked up Blaku for the first time, and the duo have worked and lived together ever since, Sullivan commanding Blaku in 21different Czech terms, and Blaku sleeping in a largecrate in bachelor Sullivan's Mesa bedroom. Blaku snores, said Sullivan. The hospital also employs a dog who takes commands in German and another in Mandarin Chinese.  Sullivan said Blaku has been an ideal security dog. He knows how to sober up drunken emergency room patients with a wolfish growl but has never had to bite anyone.  One bad guy hiding in a hospital building got out fast when Blaku was sent in on a search detail. He won fifth place one year in the "building search" event at the annual "Desert Dog" K-9 security dog competitionin Scottsdale. Blaku has a special affection for an emergency nurse named Patty Root. Anyone who touches her needs Blaku's OK, Sullivan said. When they made the rounds last week, the love poureddown. "Bye honey, I'm gonna miss you," said registrationassistant Lena Styles, embracing him, choke collar and all. Suzette Herrington, a clinical nurse educator, stooped down and cradled Blaku's head in her arms. "Mama's gonna miss you. I'll give you my address so you can come see me," she told him. Blaku stood there stone-faced like Clint Eastwood. Sullivan said Herrington is one of the dog's favorite humans. Next, Blaku called on a patient. It's hard to believe, but a patient once told Sullivan: "You get that dog out of here or I'll bite you." Jake Urschel, 76, wanted to talk with Blaku. The Scottsdale man was in the hospital having radiation treatments, and needed some fun. "Ah, he's nice. I've had dogs all my life. This is normal for me," said Urschel, as Blaku planted his paws on the mattress a few inches from Urschel. Jake's wife, Boots, was worried about Blaku's future. "Retirement isn't really much fun. You miss all thepeople and activity," Boots told him. But the farewell was inevitable. "He's slowing down a bit. We want him to have a life outside the hospital," Sullivan said. So last Saturday, Sullivan and Blaku came home from their regular night shift at the hospital, gathered Blaku's rubber toy collection and headed for Sullivan's brother's home nearby.  Blaku is now settled into a family with two kids, who have known him for years. Sullivan plans to take him out weekly. "Blaku's a family member. When I'm sick, he's there for me. He's almost like my mate," he said. "But it hasn't hit me yet," said Sullivan, his voice choking,shortly before Blaku's departure. Saturday afternoon Sullivan was to pick up a newservice companion.